Flash Note
Key Takeaways
After the difficulties of the past twelve months for the energy sector, we believe that the supply reduction from US shale producers will be

sufficient enough to put upward pressure on oil prices in 2016

e have been

adding oil related stocks

that meet our investment criteria in anticipation of this move
Learn more on our Carmignac Portfolio Commodities fund
Our view on oil
After the difficulties of the past twelve months for the energy sector, we believe that the laws of supply and demand should eventually swing the pendulum in favour of oil prices.
That makes oil our most bullish commodity for 2016.
With US exploration and production capital expenditures budgets slashed for 2016 and the rig count continuing to fall we believe

we will see meaningful production declines this year from the US shale basins

. That should contribute to non-OPEC supply contracting by over 600k barrels a day in 2016, or around 0.7% of global supply.

Outside of the US it is difficult to see where the supply growth could come from

. Saudi and Russian volumes are close to capacity. We believe that the expected increase in exports from Iran (500k barrels a day) is overestimated. The country has, according to our sources, already been exporting a considerable part of its excess production via Iraq.
While global demand growth should add 1.2% to demand, overall the supply demand imbalance could tighten by close to 2%.

The world needs more oil every year as its population grows

, given the 80 million more people per year who will consume it, irrespective of energy efficiency measures.
How we implement this in Carmignac Portfolio Commodities
In line with our investment process, we prioritise businesses with strong management, a proven ability to generate positive returns through the whole cycle, that are not excessively leveraged and that are, according to our analysis, able to generate attractive and sustainable free cash-flows.
Most companies in the energy sector have been struggling to come to terms with the new oil price regime. Many are still in denial and running with cost structures and debt burden's built for a $60+ oil price scenario. As we see it, the sector today is made up of: 1. Companies where equity is purely option value / virtually worthless and their corporate debt heavily discounted below par 2. "Working-it-out" businesses where debt levels are elevated but asset values and management teams offer a path out of the woods, and 3. Some rare fortress businesses with strong balance sheets.
The first of these (minus a couple exceptions) will be wiped out, the second will muddle through but maybe at the cost of some additional dilution, and the third group will be fine but are already priced to factor this in. The second group, and to a certain extent the third group, are likely to be the most interesting for investors.
Our positioning in Carmignac Portfolio Commodities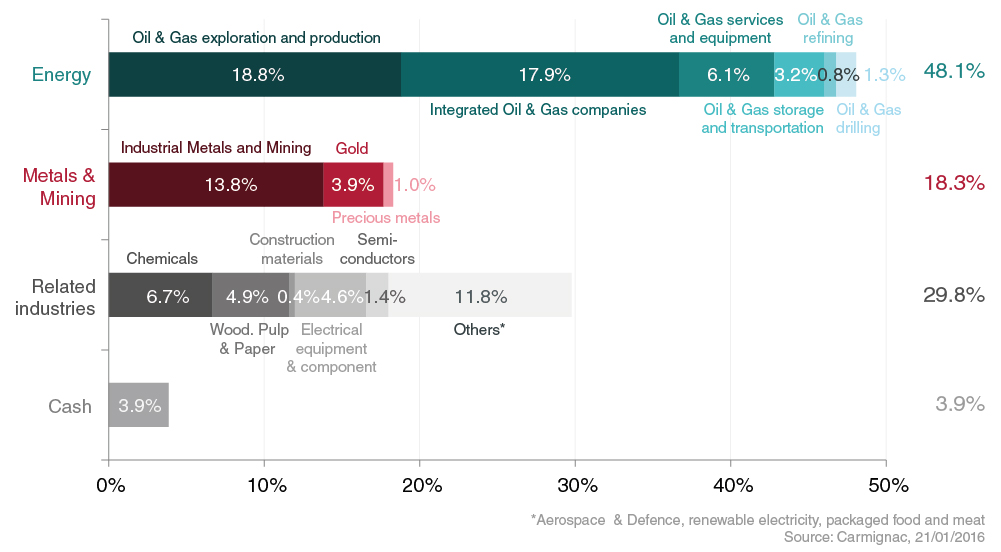 Our energy exposure is composed of: Long positions in:
Oil sands producers

like Suncor Energy, who have stable production and low maintenance capex (unlike shale producers who must spend to keep the oil flowing).

Shale exploration and production companies

with strong balance sheets that can keep their production flat with low capex in a bear market, and will benefit from their capacity to utilize the available resource more effectively. Our favoured names in this segment are Anadarko, EOG and Hess.

Oil services sector via diversified services companies

with strong proven management and a technological edge such as Schlumberger and Halliburton.

Oil and gas storage and transportation companies

, which benefit from long term cash flow visibility such as Enbridge.
Selected short positions in the names with higher production costs and unsustainable debt burdens.
Our top energy investments are: Source : Carmignac 29/02/2016
Going Forward
We continue to capitalise on the weakness of attractive oil stocks that meet our investment criteria, in particular, Suncor, Anadarko and Occidental Petroleum (which has one of the strongest balance sheets in the sector). On the other hand, we have in the last few months reduced our positions in some of our smaller niche oil exploration and production names, and reduced our short book in anticipation of higher oil prices in 2016.